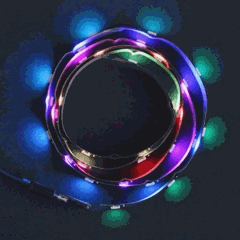 Amazing BlinkStick
Flex

!

BlinkStick Flex combines a flexible LED strip with BlinkStick Pro into one amazing device!
Device on your fingertip
At the heart of BlinkStick Flex is a super small board that barely fits on your fingertip.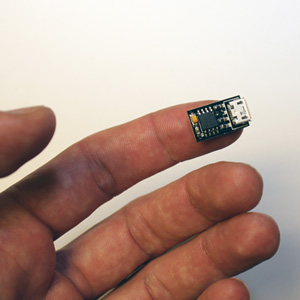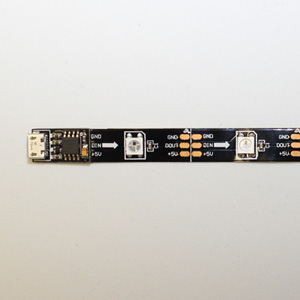 Control up to 32 LEDs
Flex connects to WS2812 LED strips to control them individually and provide power from computer's USB port. It's smart enough to automatically adjust the power draw from the USB port based on how many LEDs are controlled.
Adjustable length
You can cut the LED strip anywhere through the cutting lines to change the length of the strip or split into two or more parts by attaching wires.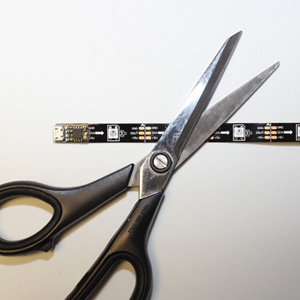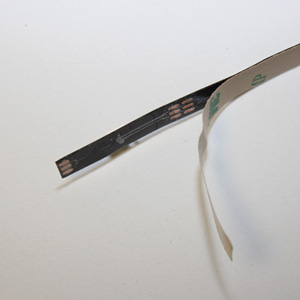 It's sticky!
The bottom side of BlinkStick Flex LED strip contains double sided tape making it very easy to attach to any surface.
Attach to your monitor
It takes just under a minute to attach BlinkStick Flex LED strip to your monitor! It's the best way to see glowing notifications behind your screen on the wall!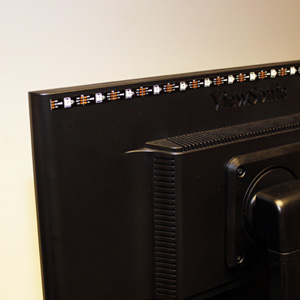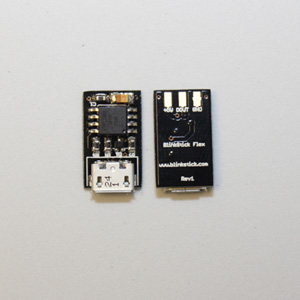 API implementations ready
All BlinkStick API implementations already support BlinkStick Flex. Python, Microsoft.NET, Mono, Node.js, Ruby, Processing, Linux, Windows or OSX are all ready for you to tinker with BlinkStick Flex.
BlinkStick Flex Features
Integrated micro USB socket
Integrated ATTiny85 with BlinkStick Flex firmware
32 individually addressable WS2812S RGB LEDs
Can be cut to desired length
Maximum 2W of power output on all LEDs combined at full white brightness
Maximum power draw 500 mA
Automatic brightness limiting based on the number of LEDs connected
Powered by computer's USB port
Works on Windows, Linux and Mac OSX without the need of any additional drivers
Supported on a wide range of programming languages
Supports USB 1.1/2.0/3.0
Dimensions - length: 1070 mm, width: 10.3 mm, height: 3.7 mm, spacing between LEDs: 33mm
BlinkStick Flex Board Features
Integrated micro USB socket
Integrated ATTiny85 with BlinkStick Flex firmware
Comes as bare board and can be connected to WS2812 LED strips
Automatic brightness limiting based on the number of LEDs connected
Powered by computer's USB port
Works on Windows, Linux and Mac OSX without the need of any additional drivers
Supported on a wide range of programming languages
Supports USB 1.1/2.0/3.0
Dimensions - length: 18.4 mm, width: 10.3 mm, height: 3.7 mm
Other BlinkStick products